Landscape Lighting Cincinnati
Unique Cincinnati Christmas gift 2015!

Are you looking for a gift that is both unique and long lasting for Christmas this year?
Outdoor lighting is a great gift for the man that's hard to buy for!
Part of the unique Cincinnati Christmas gift landscape lighting package includes a visit to the property to evaluate how to maximize the look of the property, then to deliver a proposal for your consideration. Once the project is booked, our expert installers will install the lighting package on the day and time that you select (based on availability) in just a few hours.
Instead of struggling to give a gift that isn't remembered or doesn't last, give a gift that will have a huge impact not only on the recipient, but everyone that visits the property!
Call us today and we can visit the property covertly if necessary to prepare the ultimate Cincinnati Christmas Gift!
513-476-7575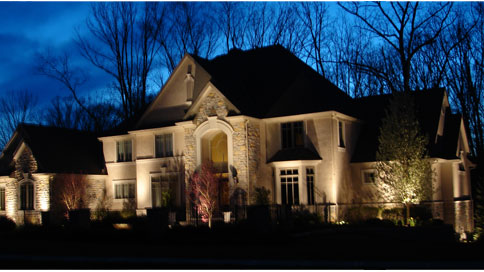 Cincinnati Landscaping is the leader in Cincinnati landscape lighting design and installation!
Accenting your home or business with lighting is an art.
Consider us your artist! We have years of experience designing and installing Cincinnati landscape lighting. Using our experience along with cutting edge manufacturers like Kichler and Vista, we can design and install a dynamic system that will illuminate your home dramatically! Why trust the night time beauty of your home to anything less than the best, call us today to schedule a free appointment to review your lighting plan.
We work closely with you to design a plan that enhances the architectural features of your home and property using a combination of passive shadows and light to set the perfect mood. We treat each project as a blank page and take full advantage of modern lighting technology to set the stage for your lifestyle, from formal events to casual gatherings and - most importantly - everyday pleasure for your family. Our state-of -the-art fixtures live up to our quality expectations and offer you a product providing both reliability and longevity.
We offer Cincinnati landscape lighting in incandescent, halogen, and LED. Our fixtures are manufactured to exacting standards. Fixtures are constructed from cast aluminum, bronze and brass, never plastic. We offer the latest designs and styles of fixtures as well.
Whether you're interested in a twinkling candlelight effect or dramatic focal-point lighting, consider some of the following lighting solutions to create the ambiance you desire.
* Moon lighting for a romantic effect in an exterior garden area. * Deck lighting to enhance your favorite outdoor getaway.
* Up-lighting to highlight landscape and architectural focal points.
* Down-lighting to simulate luminescent natural light and create a sense of security.
* Path lighting to draw attention to sidewalks, paths and flower beds and ensure a safe walking experience.
* Architectural lighting to illuminate interesting design angles, peaks and gables of your home.
* Grill lighting for both ambiance and functionality for outdoor cooking.
* Step lighting for safety and aesthetic beauty.
* Flagpole lighting to dramatize your favorite flag insignia.
* Security lighting to ensure the safety of your family and friends.
* Commercial lighting to attractively illuminate your place of business or subdivision entrance.
We are your Landscape Lighting Cincinnati Solution, call us today! 513-479-7575
This is a link to our Landscape Lighting Fixtures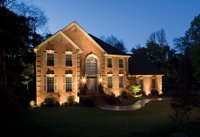 ---
Cincinnati Outdoor Lighting is our specialty!
---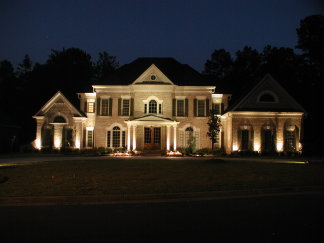 We have a talented staff of lighting designers and installation experts who creatively begin each project to guarantee the end result makes your property glow like a work of art. We bring years of lighting design and installation experience to each project, resulting in delighted clients. Our custom design and build solutions complement your property, whether it's new construction or an existing structure.
Our landscape lighting division was founded on our core values of quality work and exceptional customer service. We approach each project with original ideas and pride ourselves in taking the greatest care with every detail from the design process through installation. Placement of lighting can mean the difference between a brilliant effect and mediocre work - and we strive for excellence.
Do you need Landscape Lighting Cincinnati? Call us today at 513-479-7575
---
Free Offer from Cincinnati Landscaping LLC
---