Supplying all your needs for fence Cincinnati
We have everything you need for fence Cincinnati.
There are many different styles of fence available. Chain-link, decorative aluminum, wooden and vinyl just to name a few.
Depending on the style of your home and existing landscaping, your options will be limited only by your imagination.
Do you want to add on to an existing fence? Give us a call and we'll come to your home, identify what you have, and locate as close a match as possible all for free!
Which one is right for you? The following links may help you decide which one is right for your situation.
---
The first one, chain-link is by far the most popular fence made.
---
The next is decorative aluminum. This type fence is available in many different styles and colors. Decorative aluminum fence is extremely durable and weather resistant. Some practical applications for this type of fence include pet enclosures, swimming pool enclosures, and other backyard security issues. If you would like further information please follow this link. Cincinnati Landscaping is the fence installer in Cincinnati. We install aluminum fence in many upscale home settings where the is the need for security as well as beauty. Aluminum fence is available in several different colors to accent any landscape and home. In applications where the fence is going around a swimming pool, specific county and municiple codes will apply. We can identify which code applies to you and your property, and make the permit process easy for you. We would love the opportunity to give you a proposal on all of your fencing needs. We are the specialists in installing fence in Cincinnati! Decorative Aluminum Fence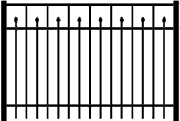 ---
Ornamental Wire is a remarkable product that satisfies the demand for an elegant, strong, and durable fence at a cost comparable to chain link. By using visually appealing mesh patterns and adding horizontal rails for a truly ornamental appearance, it is an attractive fence that is unlike any other.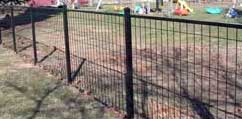 ---
---