Cincinnati Landscaping, your complete outdoor maintenance solution.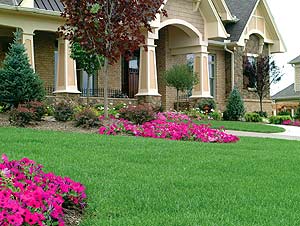 Welcome to Cincinnati Landscaping, a full service landscape contractor. Cincinnati Lawn Care, Cincinnati Landscaper, Cincinnati Landscape Lighting, Cincinnati Snow Removal, Cincinnati Retaining Walls, Cincinnati Paver Stones, We are your landscaping, drainage and outdoor maintenance headquarters. We offer landscaping services, landscape design, lawn care, concrete resurfacing and other outdoor maintenance services to the Cincinnati area.
| | |
| --- | --- |
| We have assembled a group of services that is un-paralleled in Greater Cincinnati and Northern Kentucky, for all of your outdoor maintenance needs including landscaping, drainage, lawn care, tree service, stump removal and snow removal just to name a few. | |
From the very simple landscape maintenance services to complex design and installation of a complete landscaping plan, we can design, plan and deploy the solution you want.
---
Our mission is simple; "Enhance your image by effective maintenance of your property"
---
We stand by this in everything we do and look forward to serving you.
Our goal is to offer our customers the service that they deserve while managing costs so you get the most for the dollars spent. Through years of experience, we have successfully accomplished this for thousands of homeowners and business owners throughout the Tri-State area.
If you are looking for a comprehensive Cincinnati landscaping company, we can deliver what you want, on time and within budget. Planting beds, drainage, retaining walls, hardscapes and on-going landscape maintenance, we have what you need.
As you begin to look through our site you'll see articles and features that give you the information to accomplish most tasks yourself if you choose.
We are here to serve you, so, at the bottom of each of our pages you will see a contact form for your convenience. If you would like to electronically contact us, this is an easy way to do that. Also, if you would like to subscribe to our newsletter, you may do that on the same form.
---
Total Maintenance Program
Our Total Maintenance Program (TMP) includes everything outside your home in terms of maintenance. Lawn care, landscaping, trees, concrete, paving and all other areas of outdoor maintenance. We offer all encompassing programs or minimal services to accomplish your outdoor maintenance goals. We can design a program to meet your needs. Whether it be one time lawn care services or full service, ongoing full service, we can help. Call today and we can design a program to fit your needs.
The services that we provide are designed to add value to your life. From our drainage services to full landscape service, we offer everything that you need to make your property, whether residential or commercial, everything it can be. Call us today for a complete overview of your facility. We can make recommendations and resolve any issues that are keeping your property from being everything it can be. Call us today! 513-479-7575
Our services are designed to make your life easier. We take care of those things around your home or office that take you away from your family and life. We have programs in place to maintain the outside of your home through all four seasons of the year. Call us today to schedule an appointment to see how we can help you make the most of your time and home investment.
If you are looking for an outdoor maintenance contractor, a landscape contractor, a paving contractor or a drainage contractor in the Tri-State area, you have come to the right place. We are Cincinnati Landscaping, Cincinnati Lawn, Lawn Care Cincinnati, and Cincinnati Snow Removal!
Again, thanks for visiting our site, feel free to look around and if you have questions or need any outdoor help call today 513-479-7575