Are you searching for a Cincinnati Deck Builder? Look no further.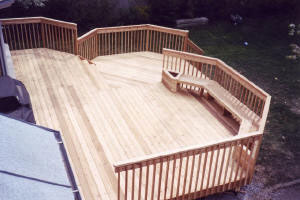 We are your Cincinnati deck builder.
Are you interested in erecting a new deck or revitalizing one? Cincinnati Landscaping can help. Our years of experience and knowledge of the processes necessary to build both functional and extremely attractive decks is unmatched.
The design and planning stage, depending on the complexity of the project, can either be handled by us or if necessary in conjunction with an architect or engineer.
There are many different styles and designs available, really, anything you can dream of.
The surfaces that are now available are also remarkable. Pressure-treated wood is the low-cost leader with fairly good durability, moving to Redwood . that is more expensive, but much more durable than pressure-treated, to some of the exotic woods, such as mahogany wood, teak wood and the like, it can become quite expensive. Cincinnati Landscaping can help as your Cincinnati deck builder!
Over the last several years there has been a great move towards composite wood products. These products are made up of wood fiber integrated into a plastic resin compound. The price of these products is coming down dramatically. They are extremely easy to procure and install.
No matter what the project is the objective is to integrate your deck into the style of both your home as well as your landscape.
Let us help plan your new deck. Call 513-479-7575 today!
Cincinnati Deck Builder Guarantee
We are your Cincinnati deck builder, call us today for the deck of your dreams!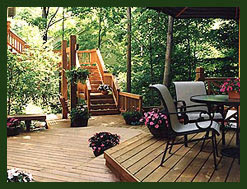 Restoration of an existing deck is as easy as an iced tea!
Do you have an existing deck that is weathered and worn? We can help. Cincinnati Landscaping, your Cincinnati deck builder offers restoration services to bring your old deck back to life for a fraction of the price of building new.
Our restoration process begins by sweeping the deck surface to remove any large loose debris from the surface.
Second, we apply a deck revitalization chemical, that actually is absorbed into the exposed surface of the wood. This does two things, it acts as a detergent for cleaning and also creates a chemical seal at the point where the wood is no longer weathered sub-surface. This actually creates the base for the sealing process that comes much later.
Next we bring an extremely high powered pressure washer in to remove any moss, mold, algae, grease or dirt that is present. This process also removes the vast majority of any previous stain that was present on the surface.
Now, this is where we are different than most of our competition. At this point we leave. I know what your thinking, "but the job isn't done!". This step is critical to a long term success. We leave the surface dry for at least 24 hours before applying sealer or stain. Why you ask?
When you pressure wash anything, but most specifically, wood, water is injected into the surface. If you seal the surface, you are sealing the water inside the wood. We are your Cincinnati deck builder.
Since we live in the Midwest, this is a problem from two extremes. First, summer brings very high temperatures, which in turn, cause the water in the wood to evaporate. If we have sealed it in, it's still going to find a way out. Namely, causing a bubble or crack in the sealer we have just applied, which in turn causes an area in the surface that becomes vulnerable to weathering at an accelerated pace. Secondly, winter brings sub-freezing temperatures which cause the sealed in water to freeze, duplicating the end result of summertime conditions.
So, after the surface has dried, we then apply stain or color if requested and then finally a UV protected sealer.
Under most conditions, from start to finish, the restoration process takes 2 days.
As your contractor, we will always treat your job as our own.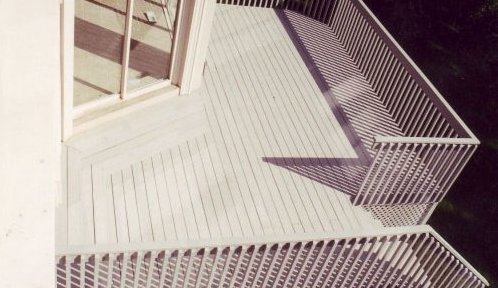 The project below is constructed out of one of the composite products. As you can see it is brand new yet it has a gray weathered color.
The composite products are available in several colors.
Call us to schedule an appointment. 513-479-7575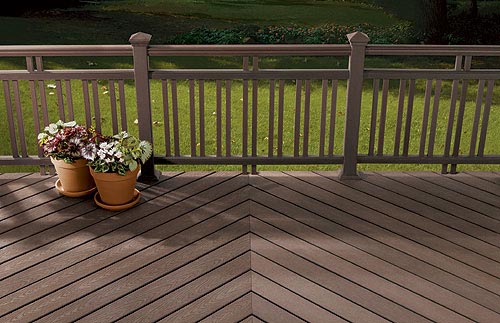 We are your Cincinnati Deck Builder, call us today!