Cincinnati Snow Plowing Services
Our Cincinnati Snow Plowing Services are second to none! We are there when you need us to be there. Our fleet of plow trucks can remove snow from your driveways, parking lots and access roads. Each one of our trucks is outfitted with salt spreading equipment as well. We can either apply salt in bulk, by the ton or in bags, it's your choice. We offer very competitive pricing and service that is unrivaled.
It is our desire to service your Cincinnati Snow Plowing needs quickly and effeciently.
Most of our customers use an opt-in service which is a staged service. For example:
Snow amounts beginning at 2" through 5" are priced at  the benchmark cost. Snow amounts 5" through 10" are priced a bit higher, simply because it takes longer to plow deeper snow and snow amounts of more than 10" are priced at an hourly charge. This gives our customers a budget amount to work with leading into the winter months.
Salt is priced one of two ways, first is on a "used" basis. Whatever the total amount of salt is, bagged or bulk, is what you are billed for. For some properties, it is very predictable as to how much salt is needed. The second pricing method is a contract price. A fixed price that will not vary. This type of pricing is based on an event basis. Each application is priced the same way.
We are highly flexable in the way we can service your property. If you have sidewalks, small driveways or steps that need to be cleared with a shovel, each one of our crews is outfitted with shovel capabilities. 
Safety is our highest concern, both for you and your property. Once a client, we will mark your driveway, sidewalks and parking lots with vertical markers, to show the edge of each area to be plowed. Things like curbs, driveway aprons, sidewalk aprons and lighting islands will all be marked to ensure that our plows don't damage curbs, landscaping or other features around the plow site. Our goal is to make your life easier, not more complicated by damaging your property. Additionally, each one of our plow trucks is outfitted with hazard lights and strobe beacons to bring attention. Your property and safety is our concern!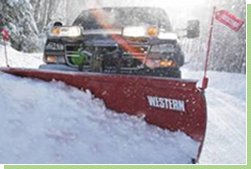 Call to schedule an appointment for Cincinnati Snow Plowing today, you'll be glad you did! 513-479-7575