Cincinnati Lawn Mowing Service
Cincinnati Lawn Mowing Service offered by Cincinnati Landscaping.
Caring for your yard is important. Our mowing services include all mowing, edging and blowing of walks and driveway areas. In the case of heavy grass, we will either rake the lawn by hand or cut the lawn twice to be sure it looks perfect when we're done. Our mowing crews are seasoned in getting your lawn looking as good as possible year round! 
Depending on the size of your property, will determine the equipment that we use. For large properties, zero turn riding mowers are used, for small yards with many obstructions, a 21" walk behind will be used. We will use the equipment that will guarantee the result is fantastic.
The use of string trimmers are employed for general edging and as needed, a mechanical box edger will be used against concrete and planting beds to ensure a crisp look. The beauty of your property is our highest priority.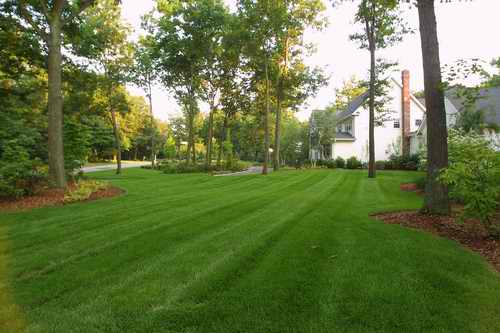 Some customers like the look of their lawn being "lined". This is the look of the lawn above. There is a grain to the lawn.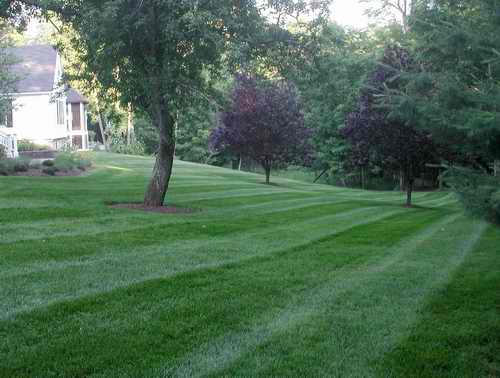 Our Cincinnati Lawn Mowing service is second to none. Once we become your service provider, your neighbors will wish they were using us as well. Making your lawn look and function is what we live for. This is how we started in the landscaping business, and we are still passionate about it today! Call us to get a free proposal today! We are booking up quickly for the season, don't delay, spring will be here before you know it! 513-476-7575

Types of equipment we use. 
Stihl string trimmers, blowers and chainsaws
Toro Walk Behind Mowers
Gravely Tractors and Walk Behind Mowers
Troy Built Mowers
Grasshopper Zero Turn Mowers
These are just a few of the brands that we rely on everyday.

Fill out the form below to receive the free "e" document, 7 things you must know about lawn care!